Those previous Euromix 3 posts on Soundcloud were taken down, so I'm editing this as needed.
When the original Euromix 3 made its rounds in 1993, I was looking for a little more. What VMC did with the remastered version was pretty much it; finishing each side a lot stronger. (Now that I remember what was cut, maybe just one side.) One of the tracks to get cut was Best Company's Don't You Forget About Me- a remix of the original 80's hit from Simple Minds, which was part of The Breakfast Club soundtrack.
The other, which I finally remembered, was "A Love Like This" by Bad Boys Blue. Probably could've been left as is.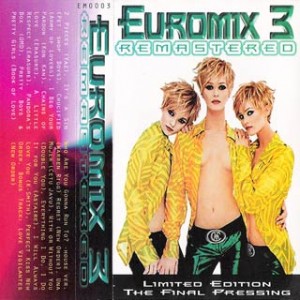 Book of Love's Pretty Boys and Pretty Girls took over, while New Order's Perfect Kiss and Love Vigilante finished the other side. The remastered version also had its sides swapped for some reason.
I know Euromixes 1-3 were redone, but only had 2 and 3. After hearing this remastered version, I gave away my copy of the original Euromix 3; really think this one is that much better. Heard the redo of the first and gotta say, I like the original one better. I ended up giving away Euromix 2 Remastered to a good friend. So, I kept what I thought were the best versions. The remastered must have been done around 1996-7, as you'll hear the Euromix 7 promo at the very end. The cassette artwork is included, seen to the left.
Side A
Too Pieces (Yaz) • It's a Sin (Pet Shop Boys) • Crucified (Army of Lovers) • I Beg Your Pardon (Kon Kan) • Chains of Love (Erasure) • A Little Respect (Erasure) • Pandora's Box (OMD) • Pretty Boys and Pretty Girls (Book of Love)
Side B
Who Are You Gonna Run To? (Warren Rigg) • Regret (New Order) • Una Mujer (Cetu Javu) • Everlasting Love* (The Midnight Shift) • With or Without You (Double You) • I Do It for You (Astaire) • I Will Always Love You (K-Smith) • Perfect Kiss (New Order) • Bonus Track: Love Vigilantes (New Order)
*I noticed on both the original and remastered, this track was mysteriously left off the label.