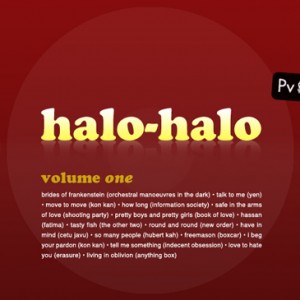 Over the last few months, I've compiled some New Wave playlists only to remember that I never did what I wanted to create many years ago – an actual mix. Since DJ software was released, I didn't make much of an effort to try. So I recently gave it a whirl, which has evolved into the following feature. And while the program was nice to use, it's definitely not as cool as having the complete DJ setup. As a result, I now hold professional DJs at an even higher regard than before. I will likely mix more in the future, as I thoroughly enjoyed the process.
That said, I'm pleased to announce the release of Halo-Halo – named after my culture's popular dessert and translated as Mix-Mix.
Playlist
0:00
Brides of Frankenstein
OMD
2:16
Talk to Me
Yen
5:26
Move to Move
Kon Kan
8:42
How Long
Information Society
12:03
Safe in the Arms of Love
Shooting Party
13:19
Pretty Boys and Pretty Girls
Book of Love
16:06
Hassan
Fatima
18:26
Tasty Fish
The Other Two
21:13
Round and Round
New Order
23:29
Have in Mind
Cetu Javu
25:23
So Many People
Hubert Kah
27:52
Freemason
Boxcar
29:08
I Beg Your Pardon
Kon Kan
33:19
Tell Me Something
Indecent Obsession
34:47
Love to Hate You
Erasure
38:03
Living in Oblivion
Anything Box
Disclaimer: Volume normalization is off. Furthermore, and in the case of two tracks in particular, the original sources are of low quality. Those sections are reminiscent of poor tape recordings (what's that?) or crumpled tape (ha!). Everything else is okay.
October 6, 2009
Postscript: I added the artwork after finishing my second mix. It was meant to resemble some of the old school vinyl covers with a modern Photoshop twist. At the time, anyway.
Follow Up: Halo-Halo Vol.2