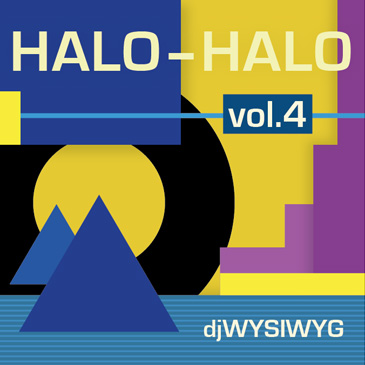 I guess it'll do. Call it compromise. What may seem easy was not; this was a tougher challenge than the previous trio.
I wanted to stick to a "no repeats" rule throughout all mixes, but am making exceptions. One is for a future anniversary mix (see Euromix 5), and the other would be Anything Box's Living in Oblivion. Of all New Wave, Living in Oblivion was my favorite before it was played out and used in just about every mix. There was a reason why I didn't feature it too prominently in Vol.1, and returned it here with a more fitting transition.
That said, I'm running out of New Wave tracks to choose from. Meaning, I brought back many of the classics I've neglected (and for good reason). And yet, this one took me awhile to get pieces to fit – the biggest pain was equalizer normalization. Every track was recorded differently; many from various analog sources with a significant loss of quality. So on that level, it didn't exactly comprise a cohesive mashup. Maybe there's a technique I'm missing but still made it work. Unfortunately, you may need to adjust your equalizers.
Throughout this entire process, I've experimented with more crossovers from 80s, Italo Disco and some Euro, but would prefer to stick to one genre throughout. I foresee an 80s mix somewhere down the line. As for the remaining New Wave/Synthpop tracks I have, I'm more doubtful they could come together; energy mismatches (not BPMs) don't blend or mesh too well. But we'll see.
How this all came together is indicative of my own creative process, which I enjoy as much as anything else. Shout-outs to VMC, Jammin Down JD, DJ Rob, DJ Markski, DJ Bong, DJ Marcus, the Magsino brothers, Brian Clarke… all people who have influenced the Halo-Halo series indirectly. Up to this point, I've referenced and replicated only 4 of the now 60 transitions – which I've done out of respect to their collective genius. But as a creative, I'd prefer to find my own path. Setting the 16-track, 40-minute limitation seemed to help it all unfold.
Credit to Matt Pop, remixer extraordinaire of the I Before E Yaz/Yazoo dub.
Playlist
0:00
I Before E… (Matt Pop Mix)
Yazoo
1:49
Dancing Queen
Abbacadabra
4:03
Living in Oblivion
Anything Box
6:44
Who are You Gonna Run to?
Warren Rigg
9:17
How I Need You
Bad Boys Blue
11:34
Chains of Love
Erasure
13:41
Jubilation
Anything Box
15:43
Call My Name
OMD
20:19
Never Ending Story
Obsession
23:18
Heart to Heart
Sweet Connection
26:37
A Little Respect
Erasure
30:34
I Go to Pieces
Shooting Party
33:30
A World Without You
Bad Boys Blue
35:00
Give Me Your Hand
Red Flag
35:55
Think
Information Society
38:43
Welcome to Rimini
Ric Fellini
About the Artwork
I realize there'll be those who won't understand at first glance. In case you're one of them, there's a parallel to the mix itself – it's a tribute to the times. Kinda rushed, but I'll let this one fly. I thought about dampening the mix to simulate Dolby. Or adding some garbled or hiss filter. 😛
Hoping you all enjoy this classic of a mix. It's sure to bring joy to some of you.
January 10, 2013