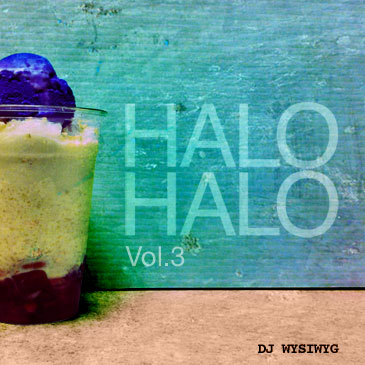 I can't believe it's finished. Why?
I finished the last two in September, and similarly, I was looking to add #3. But for the longest time, I was pretty annoyed the transitions weren't working very well. Only in the last month did it all crystalize, so to some extent, this one was a bit rushed.
I've said this before. It's a pretty cool creative outlet. In my opinion, music mixing is another form of art/media, as opposed to what's normally thought of the DJ. So to call me one is kinda funny, because I'm really not. But I selected a DJ name since I always wanted one anyway. Finally settled on DJ WYSIWYG, an ode to my techie side and current profession; it's fitting.
With this particular media and volume, I kept many parameters the same. For one, genre. And the previous two were composed of 16 tracks and edited to be roughly 40 minutes each. Also purposely stayed away from repeating tracks and from using the typical… but wanted to incorporate popular ones (i.e. Bizarre Love Triangle, so go crazy). Vol.3 included, through 48 tracks, the next mix or two will be even more challenging. So that means I've got at least one more for the genre. Maybe I'll consider an anniversary mix like VMC.
Playlist
0:00
Speed of Light
OMD
2:52
Always on My Mind
Pet Shop Boys
4:29
Fashion
Noname
6:24
Bizarre Love Triangle
New Order
9:35
Don't Let My Love
T42
13:53
You Ain't Seen Nothing Yet
Figures on a Beach
14:50
Baby Don't Say Goodbye
Dead or Alive
16:51
Love is Such a Lonely Sword
Blue System
19:42
Thinking of You
Seven Red Seven
21:59
Mary Ann
Ken Laszlo
23:49
Reality
Warren Rigg
26:36
You Think You Know Her
Cause & Effect
29:42
Fine Time
New Order
31:13
You Make Me Wonder
Celebrate the Nun
32:21
Oh L'Amour
Erasure
36:25
Subculture
New Order
38:30
Let's Take One More Rocket to the Moon*
Erasure
Other notes
I wanted to keep the energy pretty high and "dance party playable," without a ridiculous high speed/BPM (~127BPM). Used a different technique for Vol.3. It's kinda geeky and robotic to rely on waveforms, not to mention the audio editing program that's more generic and utilitarian. The result is okay to me, but I'm not going to use it exclusively anymore. DJ software is preferred. Regardless, I'm overall content with this mix. Probably as much as the other artwork I've had in public. 🙂
So, I hope you all enjoy Halo-Halo Vol.3 because it's really for you – my listening audience. To the hardcore New Wavers, this one goes out to you. Thanks for listening and/or downloading.
September 24, 2011