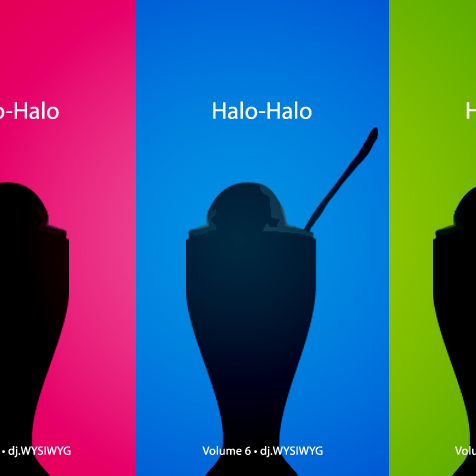 HaloHalo = HaloHalo + 1; // As I understand now
Originally thinking I'd do an anniversary mix this round, but no. So that means, the no-repeats, 16-track, 40-minute rule applies. Overall, with one exception, I've used 95 tracks in sticking with the genre (or trying to, anyhow). Crazy. This volume, more than its siblings, highlights the lesser featured and underused tracks. But all hard-core New Wavers will recognize them. Think classic Energy 88.7 and Medusa.
As I've said before, to create a mix is pretty interesting. And it continues to reflect my own process just like in any of the other projects. I started this mix a few months ago, picking a few from the remaining playlist, seeing how a few meshed, and let it all unfold organically. For it to all click is pretty neat. Much like Vol.2, I began this mix from what turned into its middle. Odd, but pretty cool. I'm not sure how many times I changed up the end, because it just didn't seem right. But then I started to work backwards from the start, and things fell into place. Believe it or not, I had 4 different beginnings. And the one that stuck, Erasure's Freedom, emerged out of nowhere. Vol.6 starts the fastest (~133BPM) to accommodate the selections, and I used previous methods to make it work with the rest.
Only in the last year did I learn of Pet Shop Boys' Opportunities and Data's Living Inside Me, thanks to an old Medusa's mix on YouTube. (The internet has been way too awesome for music.) I knew I was going to use them sometime, so I managed to work both in this round. For a long time, I've been wanting to use Bad Boys Blue's Save Your Love. But nothing ever seemed to fit, until now. Stretching the genre to include artists like Pat and Mick, Sabrina and Paul Lekakis – partially why I like to use the term "Hacking New Wave" – they're all now part of the Halo-Halo series.
A short note for my listening audience and for those that have sent me messages: Big THANKS to all of you. What has to be one of the coolest things to me, is the fact that you guys are all over the world. Not just from my hometown, Chicago. As I'm encouraged to continue mixing, I'm encouraging the comments in return. I've made an effort to understand the internet as a broadcast medium (i.e. analytics, user behavior, etc), so if you're wanting to mention something, reaching out on any of the my channels would be extremely helpful. As a reminder: Suggestions are always welcome to push and improve my work (see dj drop/voiceover for this one). And if you like it, please share it. As it's said in social media, "sharing is caring."
Playlist
| | | |
| --- | --- | --- |
| 0:00 | Freedom | Erasure |
| 1:15 | You Blow Me Away | Paul Lekakis |
| 3:47 | Chorus | Erasure |
| 7:15 | Count to Three | Red Flag |
| 10:01 | S.O.S. | Les Blue Belles |
| 11:46 | Perfect Kiss | New Order |
| 14:11 | Opportunities | Pet Shop Boys |
| 15:53 | Drama | Erasure |
| 18:20 | Decadance | Duran Duran |
| 20:07 | Boys (Summertime Love) | Sabrina |
| 22:40 | Living Inside Me | Data |
| 24:20 | Where the Streets Have No Name | Pet Shop Boys |
| 27:52 | Use It Up and Wear It Out | Pat & Mick |
| 31:07 | She's a Secretary | Celebrate the Nun |
| 33:07 | Save Your Love | Bad Boys Blue |
| 36:41 | Lovers in the Sand | Bad Boys Blue |
| 38:30 | Siren Song* (Alternate Lyrics) | Erasure |
Shout Out
Special shout out to Benson Brian of Campus Radio in Baguio City, Philippines. A previous deejay and on-air personality for many years. He's long moved on, but it's certainly awesome to have him do the voiceover and hear him on a broadcast again (even if it's virtual). Also my uncle, I'm honored and very thankful for his contribution. I recall visiting the station while he was on the air; he's as good as any personality you'll ever hear, even amongst those in Chicago. Really amazed we were able to collaborate across the world from another. Technology and the internet, you know…
What's Next?
I still see more mixes in the future. Perhaps four more? Two of which will be the anniversary/best of's, an 80's mix, and I might have enough for a "new" Halo-Halo. So, stay tuned for #7. I already have a pretty good idea of what'll be on that, but until then, enjoy.
Notes on Cover
Indicative of the Apple I knew.
February 5, 2015