It's been 5 years since I began mixing; the last three under the DJ WYSIWYG alias (recently tweaked format). I suppose I'll stick with the name, but know I've kinda outgrown it now that I'm further along in web development. Each volume is now part of my portfolio of work, and a good reason why I branded them and put forth the type of effort, focus and passion. I know these principles to be key in creating anything, and hopefully, you can hear how it reflects in the work themselves.
I've been uploading to Posterous since I began, but have moved them to Mixcloud for a number of reasons; biggest of which was Posterous shutting down. (Was that Twitter's decision? Pretty bogus.) Hoping to accumulate the likes/votes/shares for each of the mixes again.
Seeing the analytics was always interesting. It's really nice to know an audience exists, not to mention downloads. Wishing the public interactions were more reflective, though. I suppose my audience isn't into social media that much? So be it. Stats have encouraged me to continue mixing, but in all honesty, it'd be good to read more feedback; it's always welcome, particularly constructive. Influential to direction, if not integral, and part of the process.
Halo-Halo Vol.5 and Post Observations
I was achieving similar numbers with Mixcloud as I was with Posterous, but just as I figured, numbers topped off after about a week of my Facebook share to New Waver friends. Unfortunately, this is a very flawed way of reaching a target; a different commentary for another time.
Recently, I realized some things with marketing including SEO and other outlets. So I joined Soundcloud, Mixcrate and House-Mixes. I expected more from Soundcloud and Mixcloud, with them being big names and all. Trying to see what I can do with YouTube, also. Very disappointed with the Soundcloud experience, I don't recommend using them for promotions.
But the real surprise was House-Mixes; pleasantly surprised to see the five get picked up nicely there. Total listens are a bit deceiving, so I look at logged-in user count for listeners, and it's really nice to see an audience forming from there. I would have never guessed. To help me, I wrote a script to help me analyze statistics faster.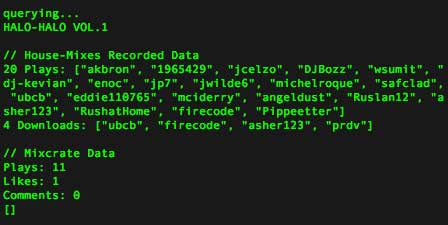 Not all users of House-Mixes may be filling out their profiles truthfully, but even if they did not, it looks like I've found more of an audience. To date, countries and number of registered users who listened to or downloaded one mix or more are as follows:
UK: 13, USA: 13, Poland: 3, Brazil: 3, Belgium: 3, Philippines: 3, Italy: 2, Germany: 2, Netherlands: 2, Mexico: 2, Luxembourg: 1, Japan: 1, Ukraine: 1, Thailand: 1, India: 1, Romania: 1, Ireland: 1, Cyprus: 1, Serbia: 1, Bulgaria: 1, United Arab Emirates: 1, Australia: 1, and South Africa: 1.
This is over the course of 2 weeks and seeing growth, so I'm not quite sure how to respond here. For all I know, the majority might just be checking any of the mixes very briefly. The repeat visitors and downloaders are the ones that have my attention. With them alone, it's pretty cool to know there is a bigger audience around the world and am grateful for even one culture interested in the content. Hence, the need to overhaul this website.
Whether you're a previous listener or someone that just discovered my work, many thanks for listening. Please add me on the social networks, Facebook and/or Twitter. You'll find related content there.